To carve a niche for oneself in the world of dance that is dominated by the fair sex is without doubt a Herculean task for any male dancer and yet if one has consistently impressed by making a mark, it certainly speaks a lot about the dancer. Pavitra Krishna Bhat is that dancer who is today one of the most sparkling gems amongst the younger generation of dancers (male and female dancers included).
His initial dance learning began at Kalanjali under Kumari Vasantha and later Pavitra trained under the renowned Bharatanatyam exponent Guru Shri Deepak Mazumdar.
" Clarity and geometry marked this slim dancer's movements, while his footwork was powerful." said The Hindu. Termed as an effortless dancer with precise movements Pavitra has been appreciated for his pure dance and sensitive Abhinaya by critics, connoisseurs and peers. Pavitra is an extremely vibrant and graceful performer. It is a treat to watch him live on stage.
" We need to make classical dance more audience-friendly and continue to educate and initiate newer audiences to appreciate this fine classical form", with this view Pavitra has been working hard to make his performances easily understood and appreciated by audiences across the globe.
His sense of visualisation of mythological episodes with subtlety and optimal renditions are the hall marks of his performances – margams and thematic presentations alike.
Pavitra has choreographed thematic presentations like Shri Ranga and also participated in the thematic dance dramas of Guru Anita Guha. In the recently held Divya Treiyam Pavitra choreographed and performed Brahma Astraa one of the Divya Astraas.
" With perfection in 'nritta' and precision in movements, his dance was striking: the male vigour combined with a rare grace and energy. His depiction of Brahmastra started with Brahma Kautvam that described the origin and usage of this most powerful weapon." – Vijaya Pratap, The Hans India, Hyderabad.
To perpetuate and promote dance Pavitra started and established P.A.V.I (Pavitra Art Visual Institute), A Bharatanatyam Institute established in a suburb of Mumbai which has a strength of 350 students pursuing this art form. Having completed the arangetrams of 9 students this dance school is in its nascent stages but is considered as one of the leading dance institutes of Mumbai.
9 (Nine) of the students of the Institute have been awarded with Govt. of India's Junior Scholarship and also many students have won laurels in various competitions.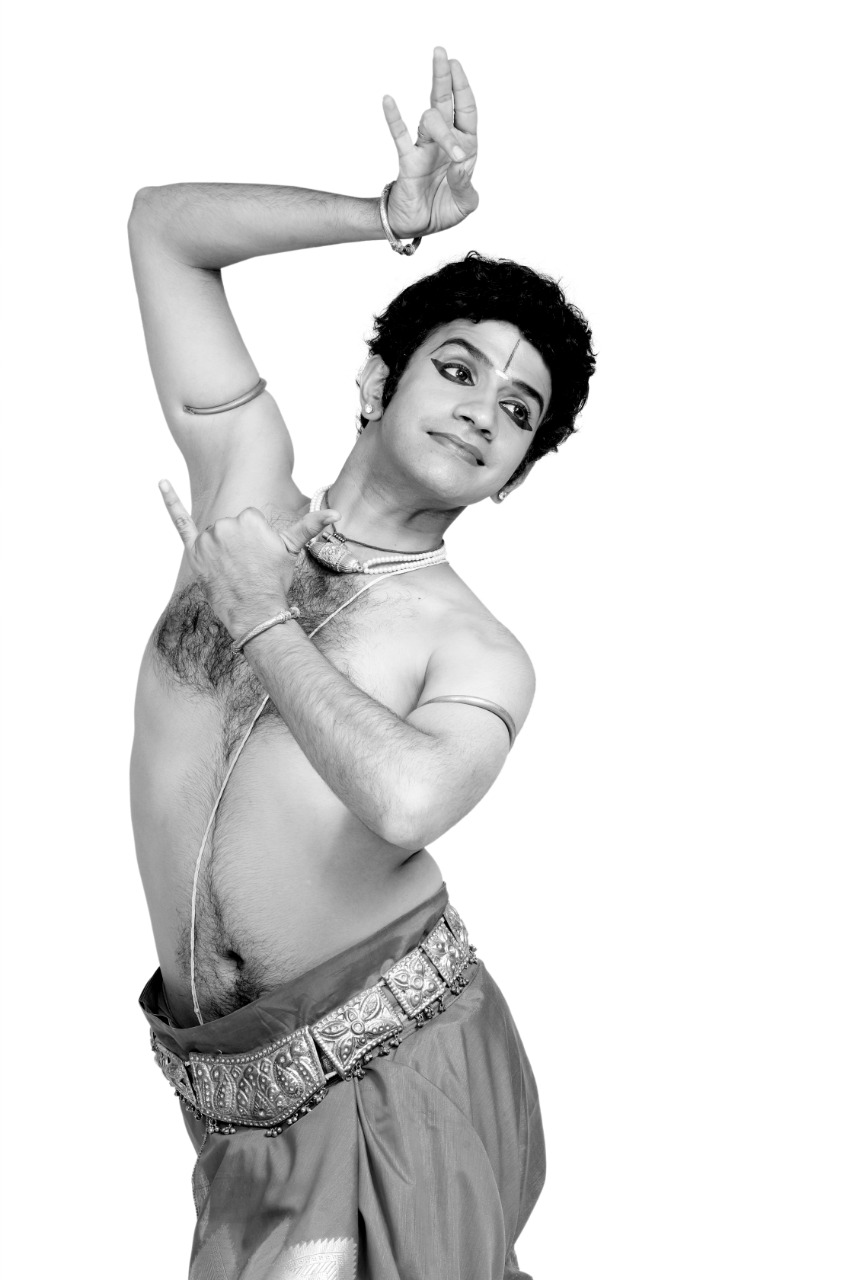 Pavitra Bhat is a recipient of many accolades and recognitions. Amongst them are:
AWARDS AND RECOGNITIONS :
KALA RATNA AWARD – CLEVELAND –USA -2017
Kannada Kala Kendra Award – Mumbai 2017
Narthaka Puraskar – Bhillai – 2015
Akelavya Sanman – Bhubaneshwar– 2014
PANDIT BHIMSEN JOSHI AWARD – Gadag (Karnataka)- 2014
Yuva Nritya Prathibha from Kalabharathi India , Trivandrum – 2014
Youth for Nation Award 2013 from Shri Nitin Gadkari ji -2013
Aarsha Kala Choodamani Title conferred by Shri Dayaananda Saraswati ji in Pensylvania (USA)
Nritya mayooram title – Bhillai -Chhattisgarh -2012
Best Dancer Award – Parthasarathy swami sabha – Chennai. 2012
Narthana Kishora Sundaram Award from Bharatanjali Trust, Chennai.
Lakshmi Vishwanathan Award for Abhinaya by Krishna Gana Sabha ,Chennai
Title 'Nalanda Nritya Nipoona' from Nalanda Dance Research Institute in collaboration of the Mumbai Festival
Title 'Singar Mani' from Sur Singar Samsad
Acharya Vishwanath Dev Sharma Talent search Award by Vedic Heritage, New York.
Lions International 's Young Ambassador of 21st Century Award
Gold Medalist for Dance from Mumbai University
T.Govindarajan Pillai Award for the Best Bharatanatyam Dancer from Mumbai University.
Pavitra is an 'A' grade artist of Doordarshan and has toured Dubai, Canada, Malaysia, Indonesia and USA for performances also toured all over India for showing his talent.